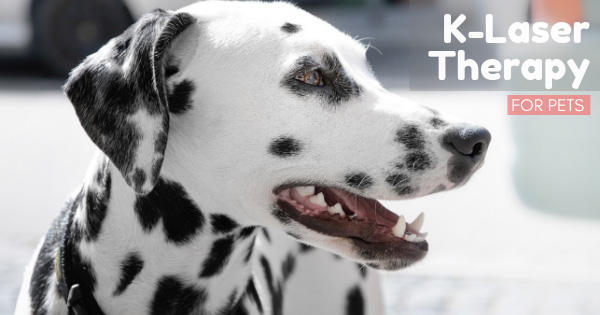 Is your pet companion suffering from arthritis or inflammation and experiencing the pain and discomfort associated with these conditions? Traditional methods of relieving symptoms and managing pain may not be effective on some pets. K-Laser therapy for pets is a safe and effective alternative to ease their pain.
What is K-Laser Therapy?
K-Laser therapy is a painless therapeutic treatment that uses Class IV laser beams to stimulate the body's natural healing ability. The specific near-infrared wavelengths cause a photochemical reaction in the tissues. Thus creating therapeutic effects and help accelerate tissue regeneration. Laser energy boosts blood flow and circulation by drawing water, oxygen, and nutrients to the affected area. This creates a healing environment that can help to reduce pain, muscle spasms, inflammation, stiffness, swelling, and healing time.
What are the Benefits of K-Laser?
Wound healing

K-laser therapy can significantly reduce the time it takes for a wound to heal. In addition, improve tissue quality at the same time. Surgical incisions, inflammation, and traumatic skin injuries can all benefit greatly from laser therapy.

Pain management

This treatment is completely non-invasive and painless for your pet. It is comforting to your pet as it creates a mild warming sensation in the treatment area. K-laser reduces pain by activating the lymphatic drainage system and reducing the inflammation of the blood vessels.

Aids rehabilitation

Many orthopedic surgical procedures and bone and muscle injuries usually require additional rehabilitation for complete healing. With laser therapy being a non-invasive procedure, the recovery is much quicker.
What Types of Conditions Can Benefit From K-Laser?
Numerous studies show that K-laser therapy for pets can be used to treat a multitude of ailments, including but not limited to:
Osteoarthritis
Joint pain
Arthritis
Hip Dysplasia
Back pain
Feline acne
Hematoma post-surgical
Post-Surgical Pain
Muscle sprains
Ligament Sprains
Tendinopathies
Chronic Wounds
Anal gland infections
Edema and congestion
Degenerative disc disease
Gingivitis
Infectious tracheobronchitis
Cystitis
Neuropathy
Ear infections
Post-surgical and soft tissue trauma
Muscle, ligament and tendon injuries
Burns
Non-surgical/partial ACL
Fractures
Bug Bites
Tears and Lick granulomas
This list is not comprehensive. You may want to contact a vet to find out if K-laser therapy might be suitable for treating your pet's ailment.
What Should You Expect the Appointment?
A veterinary technician will place the laser wand directly over the problem area for about 3 to 10 minutes, based on the size of the area being treated. Laser therapy treatments are cumulative, the frequency and length of treatment will depend on your pet's condition. Since laser therapy is painless, the majority of pets will relax during treatment. Hence there's no need for sedation or restraint. Pets may feel a mild, soothing tingling or warm sensation.
For many canines, laser therapy creates a comforting and pleasant experience. As the treatment area becomes more comfortable, any anxiety and tension tend to quickly dissipate. Additionally, some pets even fall asleep during treatment. Your canine companion will start experiencing a reduction in inflammation and pain during the treatment.
What Should You Expect Post-Therapy?
Laser therapy has been used for several decades and during those years, very few side effects have been reported. On occasion, some pain syndromes and old injuries may feel aggravated for a few days. Due to the healing response becomes more activated after the first treatment. There's also a chance that your pet will not feel any improvement, especially if the condition is of a more chronic nature. However, this does not mean that there's no ongoing healing response. Your vet may recommend more treatment sessions.
In most cases, patients exhibit renewed energy and mobility within 24-48 hours after treatment. Your vet may recommend a gradual introduction activity to ensure the condition is not aggravated.
Make an Appointment with Naples Coastal Animal Hospital
You want the best for your pet and K-laser may be the best treatment option to improve the health and well-being of your canine companion. To learn more about this treatment or schedule an appointment, connect with Naples Coastal Animal Hospital today.