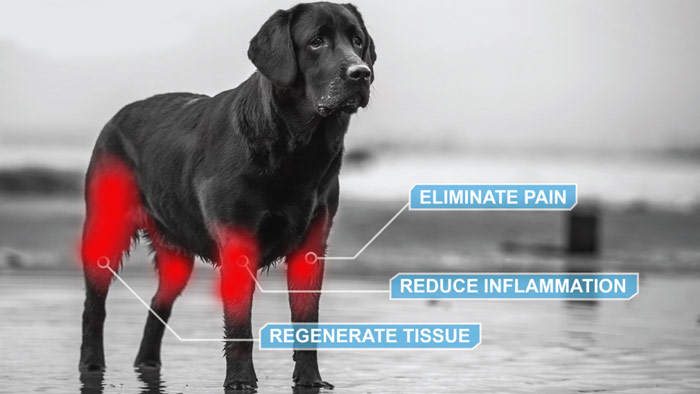 Naples Coastal Animal Hospital is now working with Ardent Animal Health to provide in-clinic stem cell therapy for pets. Ardent Animal Health is an industry leader that provides advanced, scientifically-proven treatment modalities. Their Acti-Stem Therapy uses your pet's own stem cells for treatment.
At Naples Coastal Animal Hospital, we believe that providing the best medical care for your furry friend requires us to be on the cutting edge of technologies and procedures. Our facilities feature state-of-the-art equipment and a highly trained team that offers same-day stem cell harvest and application.
What is Acti-Stem Therapy?
Over the past few decades, Acti-Stem Therapy technology has been used to treat illnesses and heal injuries in pets. This all-natural therapy uses the body's regenerative capabilities to rejuvenate and lengthen the quality of life for pets suffering from a range of diseases. Stem cells are the body's repair cells. They are like blank slates without any clear identity. With time, they divide and grow to different types of cellular tissues. This can include bone, muscle, nerves, cartilage, fat, and skin to name a few.
Stem cells are safely harvested from various adult animal tissues and then injected into the body to repair joints, muscles, and ligaments that have been damaged by injury or arthritis. By allowing us to introduce natural tissue replacements for damaged tissues instead of using artificial replacement implants, Acti-Stem Therapy can be the ideal option for treatment. It can also provide much more effective long-term relief than drugs and steroids.
What Does the Acti-Stem Procedure Involve?
Stem cells are usually taken from the animal's adipose tissues because of the high concentration there. The first step involves making a small incision and collecting fat from the belly or behind the shoulder blades. Your pet will typically be under general anesthetic during the procedure. Our highly trained veterinary technician will process the sample, isolate and activate the stem cells, and reinject them directly into damaged areas. Activation increases the cells' metabolic rate, giving them the highest potential to survive and repair the damaged area.
Other than 10-days rest and supportive measures, your pet will require minimal special care after treatment.
How Long Does it Take to Work?
Over 95% of pets treated with Acti-Stem Therapy will respond positively. Typically, we see improvement after the first three weeks and continually over the next few months. When there is little or no improvement, Acti-Stem Therapy can be repeated.
What Conditions Can Stem Cell Therapy Treat?
A typical patient has soft tissue injuries, osteoarthritis, or needs accelerated healing of fractures. Other potential uses include repairing spinal cord, ligament, and bone injuries. Stem cell therapy can also be used to treat liver and kidney disease, certain inflammatory diseases, and cardiomyopathies. Clinical research for other uses is still ongoing.
Who is a Good Candidate for Acti-Stem Therapy?
The ideal pet candidate for Acti-Stem Therapy must be in general good health, and they typically have a degenerative disease that hasn't responded well to medication. Any pets where quality of life would be further affected due to invasive surgical procedures are also candidates. Pets who have cancerous conditions are not eligible. This is due to the risk of causing cancer to grow, spread, or worsen.
How Safe is Acti-Stem Therapy?
Because stem cells are collected from your pet's own fat tissue, there's little risk of reaction or rejection. The biggest risk is using an anesthetic. The procedure is less invasive than a spay and less painful than bone marrow aspiration. Lab technicians trained by Ardent Animal Health representatives will collect the fat and carefully process it.
At Naples Coast Animal Hospital, we want you and your pet to be happy and healthy. Don't dismiss your pet's pain. Call us at (239) 500-0105 or visit our website to book an appointment to discuss if Acti-Stem Therapy is right for you and your pet.