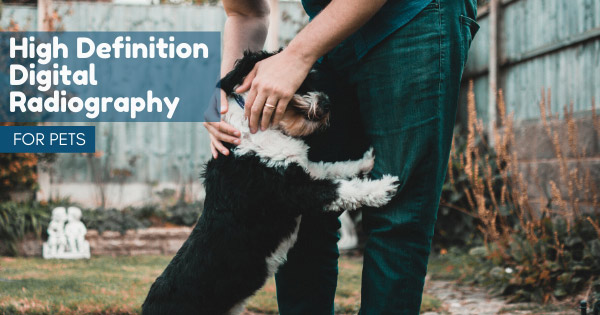 High definition digital radiography, commonly known as digital x-ray, is an advanced imaging tool. Serving as the starting point for screening or diagnosing a variety of issues. Digital radiography is used to examine your pet's organs and their reproductive, cardiopulmonary, urinary, and gastrointestinal systems.  This non-invasive procedure produces images that allow a veterinarian to get an in-depth look at issues that are affecting your pet.
With high definition digital radiography, your vet can diagnose fractures and joint abnormalities, locate foreign objects, perform dental x-rays, and screen for abnormalities in the internal organs (such as pneumonia and cancer). The ability to perform quick evaluations and diagnoses takes the guesswork out of detection and can reduce the need for invasive surgery or provide a clear guide for when surgery is necessary.
Benefits of High Definition Digital Radiography Services for Pets
Enhanced X-ray Image Quality
Clarity and detail are important in medical imaging. Getting a clear image from traditional film is not always easy. Due to exposure issues or errors in patient positioning and movement. High definition digital X-ray equipment produces images that are able to show tiny imperfections and fractures that may have been missed on traditional film. High definition digital radiography gives veterinarians a balanced presentation of soft tissue and bone structure along with a clear and realistic representation of the anatomy of your pet. The digital format also allows greater imaging versatility. Hence increasing the accuracy of patient diagnosis, treatment, and quality of care for your pet.
Better Understanding of Your Pet's Health Conditions
High definition digital radiography provides a vet with the capability to manipulate the images and control their exposure in real-time for better viewing. It allows for zooming in and out, lightening or darkening, flipping, rotating, and inverting. This increases the visibility of hard-to-see tissue and fractures. Therefore improving a vet's ability to detect disease and its current state. Annotations, such as angles, markers, measurement, and notes can also be added to the image itself. This can help the vet explain the diagnosis and help you to better understand your pet's condition. In essence, image enhancement adds up to a faster diagnosis and treatment plan for your pet.
Faster Results and Decreased Radiation Exposure
High definition digital X-rays stop the "waiting game" by allowing doctors to retrieve information instantly. This can be extremely important when your pet's life is at stake. Digital radiography also allows vets to transfer the digital images in seconds if they need to. This results in better, faster collaboration between practitioners when a referral or second opinion is required or requested.
Since enhanced image quality means fewer retakes, your pet's exposure to radiation is also reduced. The high definition radiography sensors are more responsive than conventional film. As well, emit 70% less radiation in the production of a digital image. The exposure is so minuscule and the rewards greatly outweigh the risks. Less radiation, sharper images, and faster x-ray time mean less stress for you and your pet while allowing your vet to accurately interpret your pet's condition.
At Naples Coastal Animal Hospital, we use high definition digital radiography to provide the highest quality of veterinary medicine to our patients. This cutting-edge technology gives us a better picture of your pet's organs. Allowing us to detect, prevent, and treat illnesses. And every dental cleaning also incorporates full dental digital radiographs to identify potential problems under the gumline. Contact us today to learn more or to book an appointment for your pet.