FEAR FREE & LIVING LONGER
We are Naples' first Certified Fear Free veterinarian!

FEAR FREE & LIVING LONGER
Proud to be Naples' first Blue Zone Certified veterinary hospital.
Your Pets: Living Healthier, Happier, Longer
Full Service Naples Veterinary Hospital and Surgical Center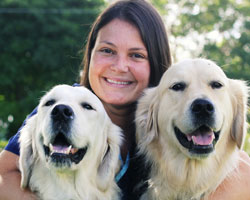 Dr. Sterling Sigmond, is pleased to announce the opening of a new veterinary clinic, Naples Coastal Animal Hospital, serving the Naples, FL. region.
Dr Sigmond has been treating dogs and cats previously as a vet at Gulfshore Animal Hospital for the past decade plus.  Naples, Florida has always been her home, and she is excited to bring a new level of veterinary medicine to our community in Naples.
Naples Coastal Animal Hospital will promote life long relationships, communication and wellness testing to keep your pets living healthier, happier, and longer. Naples Coastal Animal Hospital provides state of the art medical and surgical veterinary services, including:
K-laser therapy
Stem-cell treatments
Bio-metric blood screening
In-house laboratory and digital radiography
Pet Dental care
And hospitalization.
Dr. Sigmond and the team at Naples Coastal Animal Hospital will partner with you in your pet's health care decisions, and offers concierge medicine for more personalized service if requested.  Personalized care with the latest and most advanced technology available is a trademark!
Naples Coastal Animal Hospital is an AAHA accredited veterinary hospital, a Naples' Blue Zone Project approved veterinary hospital, and Dr. Sigmond is a certified Fear-Free veterinarian for your pets. We welcome you to come tour Naples Coastal Animal Hospital!  We provide vet care for the greater Naples, Florida area.
Call us today to set up an appointment (239) 500-0105.
You may also book online by clicking Appointments.

We look forward to being your vet and serving your pet needs!